Principal Investigator – T. Michael Anderson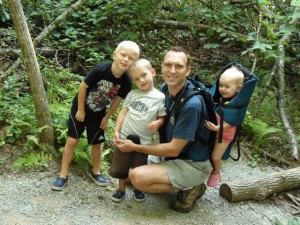 I joined Wake Forest University in January of 2010. Previously I was a post-doc at The University of Groningen in The Netherlands for three years and before that a post-doc at the USGS National Wetlands Research Center for one year. I received my PhD from Syracuse University in 2004 and a BS in Zoology from Oregon State University in 1997. I am particularly interested in the ecology of tropical grasslands and savannas, but my past research experiences are diverse, including studies of Yellowstone grasses, cactus-dwelling yeasts, tropical salamanders, temperate frogs and the menacing insect predator Notonecta kirbyi. At present I feel incredibly lucky to conduct research in Serengeti, one of the most exciting and spectacular ecosystems on earth!
Post-docs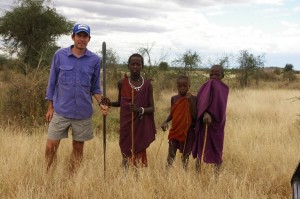 Thomas Morrison – We are very lucky to have Tom join the project as of November 2012. Tom brings a range of expertise to the group, including large herbivore ecology and modeling herbivore movement. Tom did his PhD at Dartmouth with Doug Bolger and recently completed a post-doc with Matt Kauffman at the University of Wyoming. Tom will be spending much of his time in Serengeti (lucky dog) conducting research to try and understand why savannas are such dynamic, heterogeneous systems. Find out more about Tom, his research (CV here) and his experiences in Serengeti by following this link:
Graduate students
Daniel Griffith –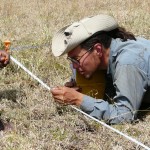 My research experiences span the gamut from field botany to bioinformatics. Research in the Serengeti gives me the opportunity to integrate my interests for the purpose of understanding coexistence of grass species in an ecosystem that has supported plant-herbivore coevolution over geologic time. In particular, I investigate the roles of salt and herbivory in the formation and structure of grass communities across the Serengeti. I am currently working as a NESCent fellow. In addition, any comments concerning our website can be directed to me, at grifdm1 at wfu dot edu.
Kathleen Quigley – I became interested in African savannas as an undergraduate, during a semester at the University of Dar es Salaam in Tanzania. During this time, I used GIS to research spatial patterns of African elephant damage to to one of the ecosystem's iconic tree species, baobabs. As a  graduate student in the Anderson lab, I am excited to continue my research pursuits in Serengeti National Park. I am most interested in the ecology and evolution of plant defense against herbivory, specifically phytoliths/silica in grasses.
Undergraduates
Cameron Flayer '14 – I am a junior Biology major and Environmental Science minor from Pittsburgh, PA. On campus, I am involved in Student Union and am a Student Ambassador to the Office of Personal and Career Development. After graduation, I plan to attend graduate school and continue my study of environmental science. This semester, I am excited to be working on the NutNet project in Dr. Anderson's lab.
Tori Erb '14 – I am a junior Biology student and very interested in the environmental, ecological, and conservation aspects of biology. I am from Sarasota, FL and after my undergraduate studies, I plan to attend graduate school in biology. I am very excited to work in the lab on the NutNet research project with Dr. Anderson, compiling grass samples from various locations around the world. When I have the opportunity, I really enjoy scuba diving, hiking, and traveling!
Shelby Oritz '14 - I am a senior form Virginia Beach, Virginia with a double major in biology and psychology with a minor in environmental science. In order to bridge my two loves, I am planning on going to graduate school for environmental psychology. I really enjoy working with kids and studying the effects of climate change on ecosystems. On campus I am a student manager in Benson, and I am on the ultimate Frisbee team. I am excited to work on the NutNet research project this year!
Previous members
Arif Ibrahim '11
Glynnis Flickinger '11
Dain Finke '12
Austen Stovall '13
Nicole Ross '13
Molly McCurdy '13
Emma Heizer '14
Alisha Giri '15
Lamar Pickett '15
Macaela Seward '15